Below you will see the article "Why I Bought A SMART Seeder™" published on Farms.com Agriville.com. The article was authored by a customer who purchased a 2018 CX-6 SMART Seeder™ from our distribution partner Rocky Mountain Equipment for his operations East of Ponoka, Alberta.
Clean Seed demonstrated a SMART Seeder™ on his farm this fall: precision seeding winter wheat directly beside a well-known dual shank precision drill.  Four weeks later, on inspection of the row by row emergence, along with the health and size of the seedlings in direct comparisons, his decision was made – it was time to invest in a SMART Seeder™.
Thank you again to the Schultz Family for embracing our innovations and putting the SMART Seeder™ to work at your farming operation.


Why I Bought a
CX-6 SMART Seeder™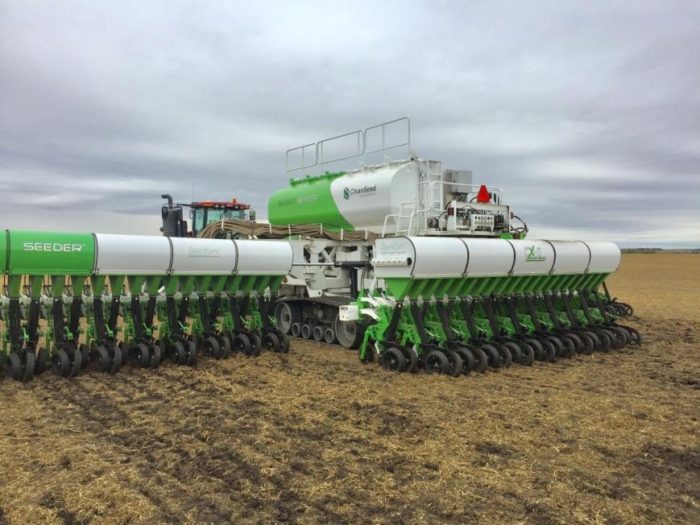 Photo: A CX-6 SMART Seeder™ from Rocky Mountain Equipment seeding winter wheat on our farm this Fall.
By: Jason Schultz, JDS Farms
Many people will begin to read this article likely wondering what a SMART Seeder™ is, and why we chose to purchase a completely new seeding technology for our farm in Central Alberta. Before getting to that, a little bit of history that will help frame our decision.
Full disclosure; I farm several thousand dryland acres just East of Ponoka, Alberta and have been looking for a seeding unit that "ticks all my boxes" for years and years. There are many seeders on the market and almost all have been tried on our farm. In fact, there are four current, completely different branded seeding units on the farm in our quest to find the perfect solution for all our soil conditions, crop varieties, fertilizer rates, and products to produce the highest yielding crops at the lowest cost.
It is a very capital and labour intensive effort to keep four different seeders on our farm running during Spring, however we continue to do it attempting to produce the highest yielding, quality crops at the highest margins. It has always been the hope to find one seeding technology that would not only replicate what I have with four current units, but also allow me to push the boundaries of agronomy on rates and soil remedy prescriptions with one unit.
This Fall, Clean Seed Agricultural Technologies and Rocky Mountain Equipment allowed me to use a CX-6 SMART Seeder™ on the farm seeding winter wheat, side by side with one of my dual shank precision drills. This demonstration and more importantly the field results on plant and root development, truly excited me! I may have found the one drill that "ticked all my boxes" for our farm.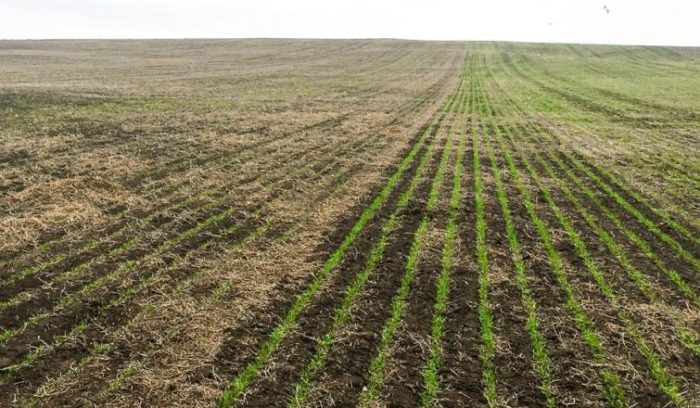 Photo: Winter wheat seeded September 19, 2017 with CX-6 SMART Seeder™ on the right.  Side by side to a dual shank precision drill on the left. Same rates on both.
What are my current issues with my existing seeding systems? They certainly all have their individual benefits along with frustrations, but many of my issues stem from seed and product placement due to air distribution which air seeder technology is based on.
By using the CX-6 SMART Seeder™ seed bounce in the furrow is eliminated due to the gravity distribution of the products after the electronic motors meter the products. Uniform seed and fertilizer placement row to row are a direct result of metering directly above the opener versus a central metering system. Product variance between each opener is eliminated with the CX-6 SMART Seeder™ compared to the random air distribution of other air seeders. Oh, and no more plugged 2 ½" primary hoses! I also like the fact that this unit gently handles the seed through soft core metering wheels and the seed air velocity is a minimum, creating seed safety.
What else "ticked all my boxes"? The CX-6 SMART Seeder™ individual sectional (row by row) control coupled with built in turn compensation that gives me precise rates across the whole drill at all times. We are constantly turning around obstacles within smaller sized fields and this feature is a must going forward.
Questions about the opener? The CX-6 uses a saw tooth coulter directly in front of the opener to cut through difficult residue conditions and opens a trench for the triple shoot opener to place product. They give the option to deep band fertilizer, or switch to side band when prescribed while also allowing a single row or 4" paired row seed placement. The flexibility allows me to seed more than one crop at the same time which opens inter crop and multi crop opportunities in the future.
Photo: Winter wheat seedling plants of side by side seeding. The CX-6 SMART Seeder™ seedling (Left) is a larger and healthier plant, more root mass and longer roots.
Finally let's talk about capabilities and logistics. The CX-6 SMART Seeder™ is an industry first in which it uses six individual tanks for products that can be separate, chained, or proportioned for the maximum product flexibility for seed, fertilizer and other products. Clean Seed has also developed a refilling on the go system using a tendering cart that can be field, and highway driven. This Superbee capable SMART Cart™ tendering system designed to refill the CX-6 SMART Seeder™ while driving and will be a huge cost savings from reduced fill times in the field and maximum acres per day for the seeder.
This well-built seeder runs on tracks as well to reduce compaction and is shorter in length than most drills on the market to maneuver into tight spaces or around obstacles.
I have found Clean Seed along with Rocky Mountain Equipment as progressive companies that listen and understand my individual farming needs. It is clear that the farming community played a key role in the design of this machine. We are excited to run a seeder that finally has all my "boxes ticked" to date. I am confident that the CX-6 Smart Seeder™ will have features added that will continue to make this seeder and this company a leader in the future and I am excited to be part of the early adopter program.
This is why I bought a CX-6 SMART Seeder™!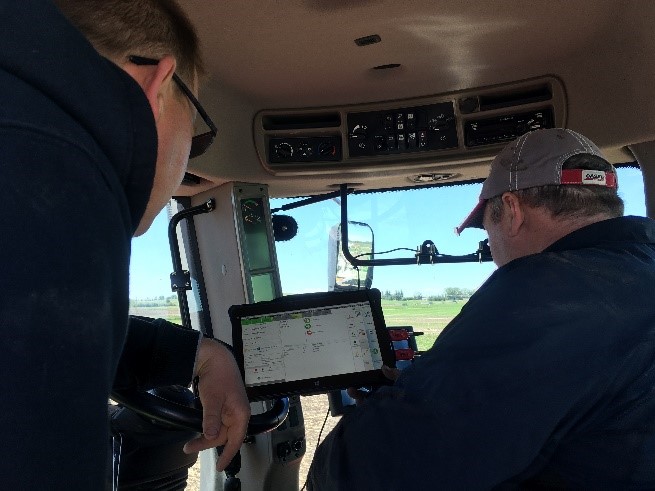 Photo: Going through the SeedSync™ software of the CX-6 Smart Seeder™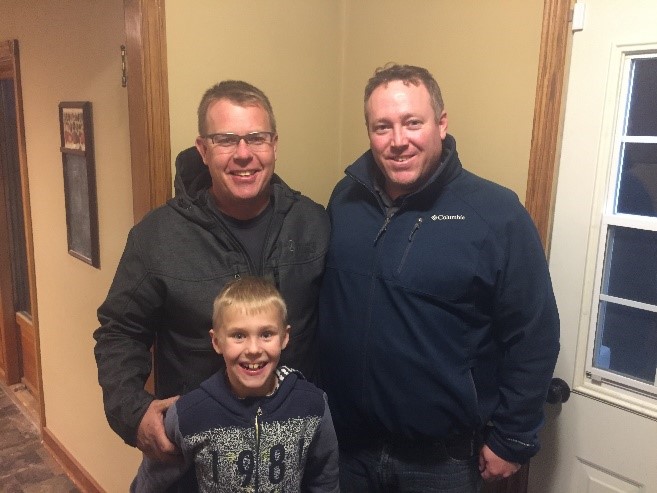 Photo: Closing the deal with my son and Colin Rush – COO of Clean Seed Agricultural Technologies
To read article online click here