In the world of precision agriculture, the CX-6 Smart Seeder from Clean Seed Capital Group stands alone in its ability to customize the rates at which seed and fertilizer are applied to each row in a field. The CX-6 can meter up to six different products right above each row opener, explains Colin Rosengren, vice-president of agronomic practices and protocols with Clean Seed, in this episode of the Dow AgroSciences Tech Tour.
"We've changed the approach to seeding altogether into the next generation of machine, moving metering back to each individual opener at a plant-level resolution," explains Rosengren, who also farms at Midale, Saskatchewan.
Related: Bluetooth-Controlled Row Unit Turns Heads At Canada's Farm Progress Show
Electric motors above each opener control the amount of seed, fertilizer or other products that are applied to the soil.
"Every single product at every single row is completely independent from each other. Whether we're turning, hitting headlands, every one can shut off, turn or compensate, " explains Rosengren, who also farms at , Saskatchewan. "If you have a prescription, you're not limited to your drill width for your resolution. You can have row-by-row resolution."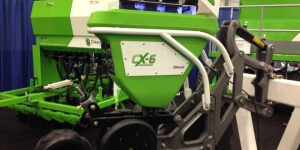 While the machine may appear complex at first glance, he says there are few moving parts on the drill and the length of hose is comparable to other air drills.
Compared to other drills, the CX-6 offers many options for customized approaches to seeding, lending itself to variable seeding and even multi-hybrid cropping, where for example, varieties with better disease resistance are planted in parts of a field prone to disease.
"We want this to be a drill guys can grow into. We want this drill to open the door logistically, agronomically to do things they hadn't thought of before, or weren't capable of," says Rosengren.