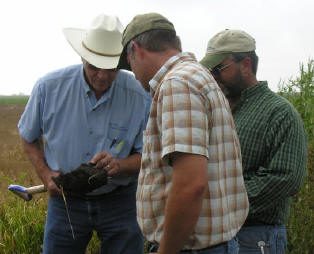 Farmers will have an opportunity to invest in a new seeder manufacturing company that wants to put micromanagement into precision seeding.
Last June, CleanSeed Agricultural Technology's CX-6 Smart Seeder won the people's choice innovation award at Canada's Farm Progress Show in Regina.
The British Columbia company, which is listed on the TSX Venture Exchange, plans to return to this year's show with seeder drill units and then organize a subsequent field demonstration day. It hopes these initiatives will lead to orders.
The CX-6 Smart Seeder's leading edge technology allows it to apply and electronically meter up to six products at the same time with control over each seed run.
Graeme Lempriere, chief executive officer of Clean Seed Capital Group, said the company's seeder goes beyond the offerings of other manufacturers by incorporating the latest digital technology and other innovations.
"I don't know if we have actually leapfrogged. I think we are just trying to catch up with what is already somewhat out there (in the digital world)," he said.
"The world has gone electronics crazy. Everybody has an iPhone, a pad … they can stream music from their phones but these assets have got ahead of the assets in the (farm) field. We have taken the technology available to other aspects and we have applied it to (seeding)."
Launching a new company, let alone a new technology, is a daunting task, but Lempriere hopes appearances at shows such as Agri-Trend's recent 2013 Farm Forum Event in Saskatoon will generate interest — not just in the seeder but also in the company.
"We want the farmer to become the shareholder in control of this business," he said.
"We really want farmers to buy into this business. They don't necessarily have to buy a drill, but they can buy into the philosophy of change that we are bringing to the market."
The company recently launched a private share issue that raised $1.4 million in three days, all from farmers.
Lempriere said the company's origins began with his father, who developed an interest in no-till farming in the 1980s and started developing the system's openers and other components in the late-1990s. The first machines were small and designed with the developing world in mind.
More recently, the company be-came involved with Colin Rosengren, a farmer and businessperson from Midale, Sask., who is now Clean Seed's vice-president for agronomic practices.
"He became an investor and brought his expertise and we started to take the components that we had developed for other technologies and applying them for technology to address the prairie market," Lempriere said.
Agronomists are able to use precision farming tools such as field mapping, soil sampling, combine yield monitors and satellite images to develop detailed recipes of seed and nutrients to apply at planting time. However, existing seeding technology has limited ability to execute the recipes.
The CX-6 Smart Seeder is designed to deliver the recipe on a foot-by-foot basis.
"Instead of mapping it out per acre, you can map it out to the foot and at the end of the day, per foot to a farmer makes a difference.… One of our big drivers is to save on inputs," Lempriere said.
Overlap should be eliminated and when the unit make a turn, the slow moving inside section will slow the feed of seed and fertilizer while the fast moving outside sections will increase the feed.
The metering system is in a cartridge in the box directly above each blade opener. Each cartridge has six mini hoppers equipped with electric stepper motors controlled through Bluetooth wireless signals. The blade opener is triple shot, and the metering system uses a foam wheel that is gentle on seed.
The electronics and motors have been proven in other applications and are rugged, he said.
However, the cartridge can be easily swapped out with a replacement if something goes wrong.
The main air cart's capacity is 450 bushels, and the company has de-signed inexpensive nurse carts that will allow virtually non-stop seeding. They can be unhooked, refilled and repositioned so that they are ready when needed by the main cart.
Lempriere said he expects a 60-foot drill with air cart will cost about $500,000. The nurse carts should cost about $50,000.
The electronics and seed box cartridges for the first units will be made at the company's plant in Burnaby and sent to Rosengren's farm manufacturing shop for mounting on the seeder frame.
Lempriere hopes the full manufacturing process can be moved to the Prairies if the product catches on and more investment money is raised.