"If an investor had bought $10,000 worth of Clean Seed's stock at our introduction price of $0.33 per share, those shares would now be worth approximately $24,000 based on Friday's closing price of $0.80 per share."
Pinnacle Digest discovered Clean Seed Capital (CSX:TSXV) - an agriculture technology company - in 2012.
After visiting its headquarters, on more than one occasion, in April of 2012 we introduced our readers to Clean Seed Capital. It was our new client and only Featured Technology Company of that year. At the time, the tech company was pretty much unknown in the investing world, and it was thinly traded. However, we found its story and technology to be interesting given the global shortage of arable land. An excerpt from our introductory report on Clean Seed, released April 18, 2012, is below:
"Our Featured Company's No-Till planting system, comprised of patented technologies, took 5 years of development and roughly $6 million in R&D to create. This technology was developed by Dr. Noel Lempriere. Dr. Lempriere is an expert in the field of engineering and No-Till farming equipment. His expertise is so respected that he was invited to address the US senate special committee on sustainable agriculture. He is recognized as a pioneer in land restoration initiatives and conservation agriculture."
Fast forward to today: Clean Seed managed to weather the junior market downturn in 2013. Over the last 12 months its stock has made an impressive run.
Clean Seed's 1 Year Stock Chart:

Since our introduction, Clean Seed's market cap has increased by more than 200%. At the time of our introduction, Clean Seed Capital's shares sat at $0.33. On Friday, its shares closed at $0.80 and the company's market cap is now roughly $24 million.
Since our introduction, Clean Seed's technology has received significant media attention. It has also won innovation awards.
In June of 2013, Jessica Werb, of BC Business, reported:
"When Steve Jobs held aloft the first iPhone, the reception was nothing short of adulation. Now, one local company may have just done for farming what Jobs did for the humble phone. On June 19, Burnaby-based Clean Seed Capital Group Ltd. unveiled what it believes is the future of agriculture: the CX6 Trident Crossover Drill."
Also in June of 2013, Clean Seed announced that it was awarded the prestigious People's Choice Innovation Award at the Farm Progress Show, the biggest agricultural trade show in Canada.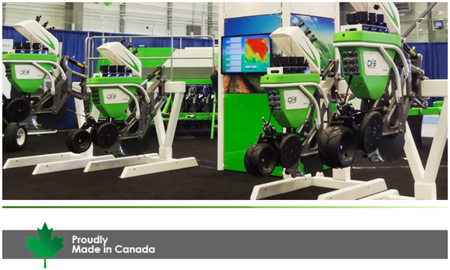 We want to commend Clean Seed's management team on making a name for their company in the agriculture technology industry. Clean Seed's development represents the type of innovation we search for when looking to select a new Featured Technology Company.