Investing in agriculture: Innovation is changing the face of farming.
By Kathryn Boothby
 Doing more with less on the farm is critical as producers become more acutely aware of the bottom line. As demand for agricultural commodities continues to rise, so does the cost of inputs including seed, fuel, fertilizer and pest control products. Finding the means to reduce costs while increasing production is a necessity.
Over the past five years, farmers have been able to keep pace with the increasing demand for food crops. However the global population is increasing by about 850 million people every 10 years. Add the demand for biofuels and other markets competing for grain products, and the pressure to further increase production is mounting, says Derek Squair, president, Agritrend Marketing of Regina. With limited land available for cultivation, increases in production will come from technology and equipment breakthroughs, he says.
A leader in the field is Clean Seed Capital (TSX.V: CSX), a Canadian Venture 50 company that has developed an innovative, high-precision seeding system. The company's patented and patent pending CX-6 Smart Seeder will help farmers around the globe to increase yields and reduce input costs while improving sustainability.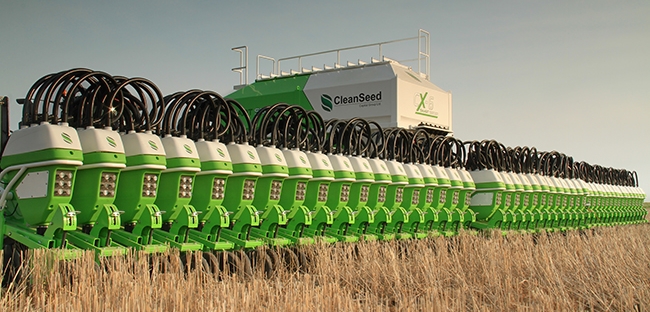 "There have been technological advances all around us, but the most valuable component of agriculture has been left behind: that of high resolution input metering control and placement in the ground," says Graeme Lempriere, Clean Seed's president and chief executive officer. "Prairie seeding technology has remained relatively the same for 20 years. We are opening up a new era that incorporates the latest in wireless communication technology, GPS navigation, and micro-management of ground inputs including seed and nutrients."
Sustainability is a major driver of innovation in agriculture and so is profitability, says Lempriere. "They must go hand-in-hand. And while it is not possible in every sector, it can be done in the field. Our technology is at the cornerstone of that union."
Lempriere likens the CX-6 to a 60-foot-wide (18.2-metre) high-resolution printer that can deliver up to six products independently, and at different rates at every foot on the field. The technology correlates agronomic mapping data to introduce seed and individual product blends, in a no-till planting environment. "The system helps maximizes soil health, saves time and money, and can all be managed from a touch screen tablet," he says.
Full-scale production of the CX-6 Smart Seeder, which retails for around $600,000, is expected to begin later this year in Manitoba. The system is sold through major agricultural distributors including Rocky Mountain Equipment. The first production run of 10 has already sold out.
While the initial launch is targeted to prairie farms with 1,500 acres and up under cultivation, market potential for the equipment reaches well beyond Canada's borders. "There's a great deal of growth potential," notes Lempriere, "Our next big markets include the United States and Australia. Alternate versions of the system are being developed for smaller farm producers across North America, Europe and South America."
As new technology changes the face of agriculture, it is becoming an emerging sector for investment. "Investors know how rapid advancements in technology and remote wireless systems have affected other industries and understand the effect it can have on agriculture," says Squair. "Companies that develop easy to use technology are the game changers. Clean Seed has done just that and leapfrogged the competition. They are also ahead of the curve in client interaction. Producers are not dealing with bulky equipment or frequent breakdowns, can seed more quickly, and maximize the acreage they plant."
Foreign investment coming into Canada is currently getting a lot of attention, Squair adds. "As breakthroughs in agricultural equipment are embraced, and production ramped up, we will see more of that investment shift to that area, especially from technologically advanced countries."
Lempriere credits his team of agronomists, technologists, engineers and software experts for the success of the CX-6 Smart Seeder. "We have entered the digital age of agriculture," he says. "We are a proud Canadian innovator and manufacturer helping a new generation of tech-savvy farmers move the sector into mainstream dialogue where investors will reap the benefits of an asset that is pioneering a new category in seeding technology."
This story was produced by Postmedia Works on behalf of Equities.com for commercial purposes. Postmedia's editorial departments had no involvement in the creation of this content.