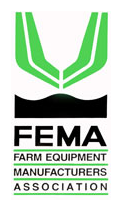 U.S. net farm income is expected to increase by 31% this year to a near-record $103.6 billion on higher prices for grain, livestock and other major commodities, the USDA said in an updated forecast.
Projected income is up from $97.3 billion in a February forecast and would be the second-highest inflation-adjusted figure since 1973, according to the USDA.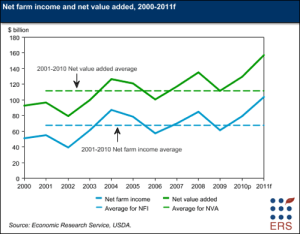 The income surge is driven partly by sharply higher revenue from corn, cotton, hay, soybeans and wheat, the USDA said. Crop receipts will rise by an estimated $33.6 billion in 2011, according to the agency.
Grain and livestock prices rallied this year amid crop shortfalls that tightened global grain stockpiles and expanding demand from growing markets such as China. Corn, cattle and hog prices reached record highs in recent months, based on Chicago futures, and soybeans and wheat are also up from previous years.
Strong commodity prices are also boosting farmland values, fueling gains in producers' net worth and pushing their debt-to-equity ratios near historic lows.
The U.S. farm sector's net worth is projected to rise 7.7% this year, according to the USDA, while farm business real estate values will rise an estimated 7.1%. The projected debt-to-equity ratio for 2011, at 11.6%, would match the current record low set in 2007.
Median total farm household income is expected to increase 1.9% in 2011, to $55,405, the USDA said. That's slower than the 4.1% increase in 2010, but higher than the five-year average of 1.2%.
Grain and livestock prices remain near highs reached earlier in the year, and many analysts expect the corn market to continue rallying after extreme heat damaged crops in the Midwest over the summer.
In trading August 30, corn futures for December delivery rose 5 ¼ cents to $7.75 ¼ a bushel. That's the highest settlement for a December corn contract since July 2008. Corn futures have more than doubled from about $3.54 in mid-2010.