Clean Seed Capital Group is strategically positioned to take advantage of the coming growth in the precision agriculture market. Our already substantial, and expanding patent library gives us a strong competitive edge within the industry and reinforces our position at the forefront of the agricultural technology innovation sector.
The Clean Seed SMART Seeder™ utilizes it's unique Variable Rate Technology (VRT) and proprietary SeedSync™ software to reduce input costs, increase field management, add real time data collection, broaden logistical capabilities and boost overall yields - the result is higher profits for farmers.
[caption id="attachment_1116" align="alignnone" width="600"]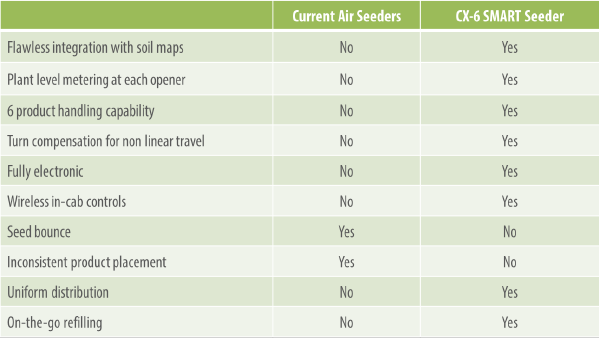 Clean Seed's SMART Seeder™ technology sets new standards in providing the farmer levels of precision that are unrivaled by the air seeders on the market today.[/caption]
In the report, that was released February 29, 2016 on Business Wire, Technavio predicts a 14% increase in the market by 2019, partially driven by a growing awareness and adoption of new technology among farmers, as well as a need to maximize food production, and operational efficiencies.
Although precision agricultural technologies have been available since the 1990s, the report highlights that adoption in some cases has been quite slow. However, improvements to technological reliability and increased computer literacy have led to a sharper increase in adoption rates that are strongly influenced by return on investment of these technologies.
The report also states a need to maximize food production by making their farmlands more efficient, and also by optimizing agriculture inputs, through the use of Variable Rate Technology (VRT).
The CX-6 SMART Seeder™ will be arriving on fields and dealer networks this spring.
[caption id="attachment_1121" align="alignnone" width="500"]

"Precision farming technologies such as variable-rate technology (VRT) provide this benefit as they facilitate control of the timing, quantity, and placement of inputs for any given area on the farm. This allows for better efficiency of planting because it allows farmers to optimize and customize inputs and reduce the misapplication of products."[/caption]
To read the full Business Wire article - click here.
To learn more about our CX-6 SMART Seeder™ and how it is revolutionizing the farming industry - click here.