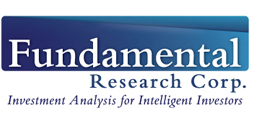 Potential to Revolutionize Seeding and Planting Globally
Fundamental Research Corp - Report Highlights:
We are initiating coverage on CSX with a BUY rating and a fair value estimate of $1.90 per share.
Clean Seed Capital Group Ltd. ("company", "Clean Seed", "CSX") has developed a group of patented and patent pending smart seeding and planting technologies that, we believe has the potential to revolutionize how farmers conduct seeding and planting operations globally.
Growing demand for food and declining arable land in the world are increasing the importance of enhancing agricultural productivity. Clean Seed is focusing on a segment that has lacked modernization and technological advancements.
The company commercialized its flagship product this year – a 60 foot wide wireless seeding machine named CX-6 Smart Seeder. Initial sales totaled $1.05 million. The CX-6 Smart Seeder is considered to be the world's most advanced seeding technology.
We estimate that a 10% market share in the seeding belt of the U.S. and Canada alone reflects potential for annual revenues of $180 million from the CX-6 Smart Seeder product line. The company has plans to grow globally and use its patented, and patent pending technology, to enter other segments of the agricultural industry, including the planting equipment market.
Distribution and manufacturing agreements with reputable third-parties in place.
CSX's management team consists of individuals with extensive experience in farming and heavy equipment sales. Research and development ("R&D") and technological innovations are their primary focus.
We believe the company's biggest upside comes from potential M&A activities and/or to attract one or more majors to license its technology, allowing for rapid global expansion.
Relatively healthy balance sheet with no debt.

About Clean Seed:
We have developed an advanced precision no-till seeding system comprising several individually patented technologies, including in-ground openers, proprietary seed and fertilizer metering, and electronic control systems.
Our most advanced and innovative technology is the CX-6 SMART Seeder™, a true industry first. The CX-6 SMART Seeder™ is the next generation of seeding technology that creates a new niche within the large-scale farm markets, and as the creators of this technology, we are uniquely positioned to dominate this new market niche.